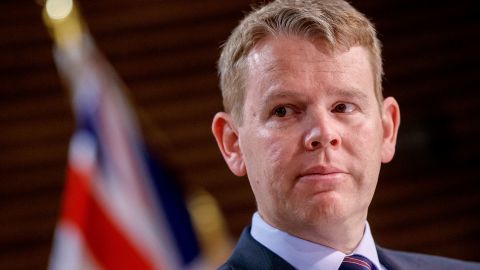 Hipkins at Parliament in Wellington, New Zealand, on Oct. 11, 2021.Robert Kitchin/AP/FILECNN —
Chris Hipkins, New Zealand's education minister, is bidding to replace Jacinda Ardern as prime minister, after her shock resignation announcement earlier this week.
Hipkins emerged as the only candidate to be nominated for the leadership of the ruling Labour party on Saturday morning.
The Labour Party caucus is due to meet on Sunday to formally endorse and confirm Hipkins as leader, party whip Duncan Webb said.
New Zealand's next general election is expected to be held on October 14.
Hipkins is a career politician who entered Parliament in 2008, and became a household name leading New Zealand's pandemic management as Covid-19 response minister in Ardern's cabinet. Aside from being education minister, he is also minister for police and the public service, and Leader of the House.
Speaking to reporters after nominations closed at 9 a.m. local time in the capital of Wellington, he said he aims to reach consensus about who is "best to lead the Labour party, and therefore, New Zealand forward."
"I am absolutely humbled and honored," he said, then added, "there is still a bit to go in this process. There is still a meeting tomorrow and a vote, and I don't want to get too far ahead of that."
The minister went on to thank his party members, saying "we have gone through this process with unity and we will continue to do that."
He committed to leading the country in a "strong, stable and unified" way but cautioned there were challenges ahead.
"I acknowledge that at the moment, we're going through some economic turbulence and we're going to have to navigate our way through there," he said.
Hipkins also told reporters that he is "incredibly optimistic about New Zealand's future" and is "really looking forward to the job. I am feeling energized and enthusiastic."