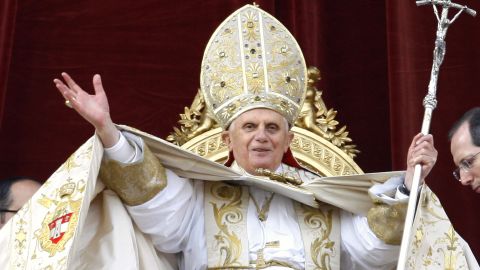 Pope Francis led tributes to his predecessor on Saturday, after Pope Emeritus Benedict XVI died in a monastery in the Vatican at the age of 95.
"We are moved as we recall him as such a noble person, so kind and we feel such gratitude in our hearts, gratitude to god for giving him to the church, and to the world," Francis said in Saint Peter's Basilica while leading traditional vespers ceremony ahead of New Year's Day.
"Gratitude to him for all the good he accomplished and above all for his witness of faith and prayer, especially in these last years of his life. Only God knows the value of his sacrifices for the good of the church," Francis added.
Benedict, who was the first pontiff in almost 600 years to resign his position, rather than hold office for life, passed away on Saturday, according to a statement from the Vatican.
"With sorrow I inform you that the Pope Emeritus, Benedict XVI, passed away today at 9:34 in the Mater Ecclesiae Monastery in the Vatican," the Director of the Press Office of the Holy See, Matteo Bruni said.
The funeral of Pope Emeritus Benedict XVI will be held on Thursday in St. Peter's Square in the Vatican City at 9:30 a.m. local time, Bruni said. The funeral will be led by Pope Francis.
Ad Feedback
The former pope's body will lie in state in St. Peter's Basilica in the Vatican from Monday for the faithful to bid farewell, Vatican News reported. As per the wish of Pope Emeritus, his funeral will be "simple," Bruni said.
The funeral of the former pope, pictured on December 25, 2007, will take place on January 5.Alessandra Tarantino/AP
News of Benedict's death came days after Pope Francis asked the faithful to pray for him, saying he was "very sick."
His health had been in decline for some time.
Benedict stunned the Catholic faithful and religious experts around the world on February 11, 2013, when he announced plans to step down from his position as Pope, citing his "advanced age."
In his farewell address, the outgoing pope promised to stay "hidden" from the world, but he continued to speak out on religious matters in the years following his retirement, contributing to tensions within the Catholic Church.