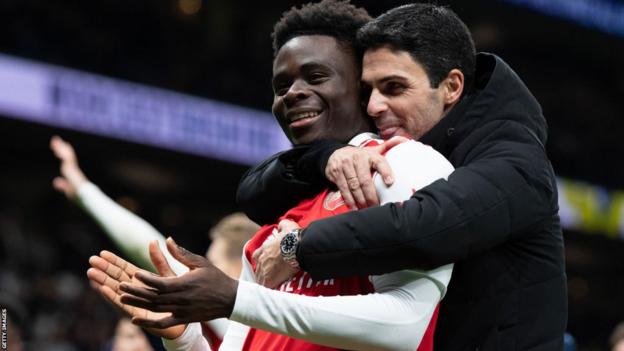 Premier League leaders Arsenal can "still play much better" in the second half of the season, says boss Mikel Arteta.
The Gunners lead Manchester City by five points with a game in hand after 15 wins in 18 matches.
They face third-placed Manchester United at Emirates Stadium on Sunday at 16:30 GMT.
"We've won a lot of games, hopefully we can do that on Sunday and then we can carry on winning," said Arteta.
"The best way to try to achieve that is to play the way we are playing or even better, because the team can still play much better."
Victory over United would take Arsenal to 50 points after 19 matches, which would be the fastest the three-time winners have reached the mark in in the Premier League era.
City are the only side to have reached 100 points in the Premier League during the 2017-18 season, when they dropped only two points in the first 19 games.
Arteta has previously said it will take over 90 points to win the league this season but added it would still take a "big, big effort" from Arsenal to reach that target.
The Spaniard said the consistency of performances from his players this season has been the biggest factor behind the club's improvement this season.
"[Consistency] is probably one of the hardest things to deliver but probably the most important one if you want to be at the top and win a lot of games," he said.
"We have delivered that so far and just have to keep doing that."
Arsenal and Manchester United had a particularly intense rivalry throughout the late 1990s and early 2000s as they competed for titles, with United winning eight and the Gunners three of the first 12 Premier League trophies.
Arsenal are looking for a first league title in 19 years, while United were last champions in 2013.
"Every time I played against United it felt big," said former Arsenal midfielder Arteta.
"They are one of the biggest clubs in the world and the tradition that [rivalry] has in English football, it's always very special to play against them,"
United are the only team to have beaten Arsenal this season, winning 3-1 at Old Trafford in September.
"There were some important lessons in that game and why we lost it when in many moments we had control of the game," said Arteta.
"But we know that's one of the qualities of United – the match can get away from you because they have so much individual talent, they have good organisation and they have many ways to create problems. We have to be at our best to win on Sunday."
United will be without key midfielder Casemiro, who serves a one-match ban after accumulating five yellow cards, but Arteta downplayed the importance of the Brazilian's absence.
"He didn't play in our first game either and we didn't do enough to win that match," he added.
"When you look at their squad it's incredible that they have the collective and individual quality to beat anyone in this league. We will plan the game knowing he's not available that's for sure."